Noted (Euros, With DVD) by Richard James
Visibly push two borrowed and signed notes right through each other.
Effect
Two notes are borrowed from a spectator, or two different spectators and both notes are signed. One note is taken and rolled up. The other, with the signature face up, remains in full view.
Watch your spectators face as you push the notes through each other! You can actually see the rolled up note pushing right through the other side.
Pull the note out and unroll it. Both signed notes are given back for complete examination!
Gimmick and Full Instructional DVD included.
Richard James is revealing his secrets of the magic that has celebrities and audiences mesmerized!
Running Time
Approximately 21min
Additional Image(s)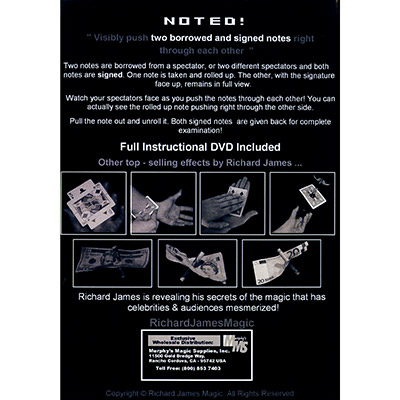 | | |
| --- | --- |
| Manufacturer | Richard James Magic |
| Featured Product | No |
This product doesn't have any reviews yet
No questions yet. Be the first to ask the question!